BioGRID Build 3.5.183 adds 332 new affinity capture-MS interactions for SARS-CoV-2 from Gordon DE et al. (2020)
COVID-19 is a rapidly evolving global health crisis and the research community is expediting release of new pre-publication datasets on SARS-CoV-2 to facilitate new therapeutic approaches. The latest update of BioGRID (build 3.5.183) adds 332 new SARS-CoV-2 affinity capture-MS interactions from the study "A SARS-CoV-2-Human Protein-Protein Interaction Map Reveals Drug Targets and Potential Drug-Repurposing" by Gordon et al (Pre-Publication, bioRxiv, 2020). This study reports the systematic interrogation of 27 ORFs encoded by SARS-CoV-2 for protein interactions with human host proteins and suggests many candidate drugs for repurposing against viral targets.
A special thanks to David Gordon and Nevan Krogan for providing data in advance of release, and thanks to all authors of the study: Gordon DE, Jang G, Bouhaddou M, Xu J, Obernier K, O'Meara M, Guo J, Swaney D, Tummino T, Huettenhain R, Kaake R, Richards A, Tutuncuoglu B, Foussard H, Batra J, Haas K, Modak M, Kim M, Haas P, Polacco B, Braberg H, Fabius J, Eckhardt M, Soucheray M, Bennett M, Cakir M, McGregor M, Li Q, Naing Z, Zhou Y, Peng S, Kirby I, Melnyk J, Chorba J, Lou K, Dai S, Shen W, Shi Y, Zhang Z, Barrio-Hernandez I, Danish Memon D, Hernandez-Armenta C, Mathy C, Perica T, Pilla K, Ganesan S, Saltzberg D, Ramachandran R, Liu X, Rosenthal S, Calviello L, Venkataramanan S, LiboyLugo J, Lin Y, Wankowicz S, Bohn M, Sharp P, Trenker R, Young J, Cavero D, Hiatt J, Roth T, Rathore U, Subramanian A, Noack J, Hubert M, Roesch F, Vallet T, Meyer B, White K, Miorin L, Rosenberg O, Verba K, Agard D, Ott M, Emerman M, Ruggero D, Garcia-Sastre A, Jura N, Zastrow M, Taunton J, Schwartz O, Vignuzzi M, Enfert C, Mukherjee S, Jacobson M, Malik H, Fujimori D, Ideker T, Craik C, Floor S, Fraser J, Gross J, Sali A, Kortemme T, Beltrao P, Shokat K, Shoichet B, and Krogan J.
If you have interaction data for SARS-CoV-2 that you'd like to deposit directly into the BioGRID Database, please contact us at biogridadmin@gmail.com.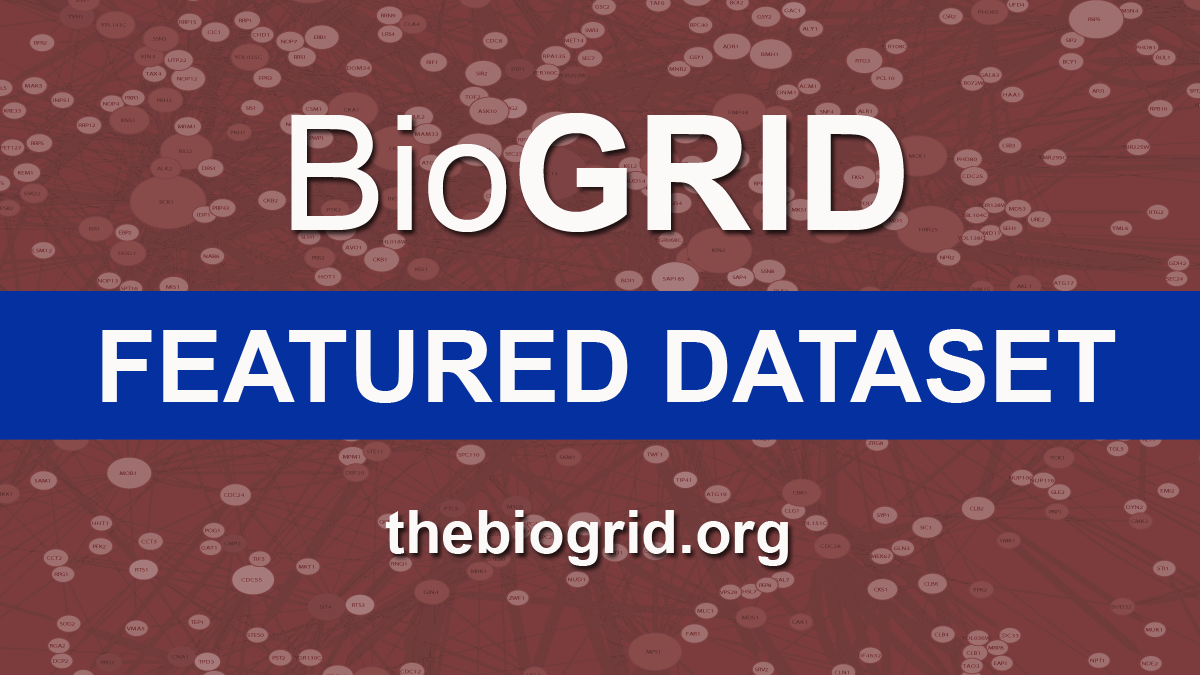 March 29th, 2020 - 02:38 PM